PREFABRICATED
WOODEN STRUCTURES
We are an authorised manufacturer of prefabricated solid wood roofing constructions and prefabricated houses.
Wiązar System
We are an authorised manufacturer of prefabricated solid wood roofing constructions joined in MiTek system using nail plates. From the start of our operation, we adopted the principle of comprehensive manufacturing of prefabricated roofing amd houses...
more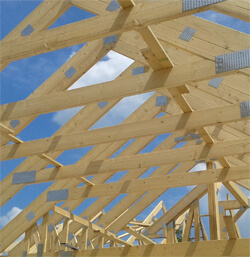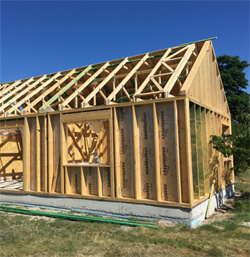 RK HAUS System
We are a manufacturer of modern pre-fabricated timber frame houses. The RH Haus System structures we offer are built on a modern production line. Depending on the finishing standard, they comply with requirements for energy-saving and passive buildings...
more
The roof trusses we manufacture meet all quality standards, ensuring the strength and stability of the entire structure. In order to achieve the best effect, we use the latest technological solutions. To find out, just take a close look at our offer.
READ MORE

The roof trusses we manufacture meet all quality standards, ensuring the strength and stability of the entire structure. In order to achieve the best effect, we use the latest technological solutions. To find out, just take a close look at our offer.

What is the difference between a traditional truss and prefabricated roof trusses?

A typical roof truss is quite an expensive and time-consuming solution. This is primarily due to the fact that it must be created by a carpenter from scratch on the construction site. More work means more financial burden for the client. A traditional truss is also created much longer, because it requires flawless precision and the use of specialized techniques. Against this background, prefabricated roof trusses are much better.

Therefore, the speed and efficiency of prefabrication as well as the competitive price speak in their favor. We are talking about even several dozen percent savings with the shortest possible implementation time (up to several days). It is not difficult to understand why the prefabricated truss is gaining more and more popularity. Especially if professional, licensed prefabrication plants are responsible for its production.

Roof trusses – benefits

For the construction of our trusses, we use softwood, dried, planed on four sides, classified for strength. Prefabricated trusses made of it become a very safe solution for the future user. At the customer's request, our trusses are additionally protected by impregnation. This is a very simple, yet effective way to extend the life of the product.

Wooden roof constructions also have reliable connections that guarantee stability and long life of the structure. Their arrangement is precisely determined at the design stage using specialized computer software. The chances of making any mistake are thus greatly limited, which cannot be said about traditionally nailed roof trusses.

One cannot forget about fast and efficient construction time. We can install wooden roof trusses on the construction site in just a few days. However, the time is strictly dependent on the size of the project. It is worth remembering that prefabrication technology is currently the fastest production method. There is no competition in this respect. Therefore, it will be especially useful for people who want to complete the order as quickly as possible.

Durable prefabricated trusses

We pay special attention to the durability of our products. That's why we leave no room for mistakes. Automation of the manufacturing process makes prefabricated roofs meet the requirements of Polish standards. In combination with dried and classified wood, it gives an effect that differs from standard, hand-made trusses. Entrusting some of the tasks to modern computer programs and tools controlled by him eliminates the risk of error, which allows to achieve the appropriate durability and quality of the product.

All wooden lattice girders are subjected to full combinatorics of the given loads. As a result, we get exceptionally durable, and thus safe to use truss. In this respect, they turn out to be unbeatable. This is proven by all the tests carried out, as well as practice. Our previous projects enjoy a good reputation also due to the resistance and durability of the structure.

Who are ready-made roof trusses for?

Our offer is addressed to both public investors and individual clients. We will be happy to help you build a prefabricated single-family house. We are equally willing to produce wooden roof structures for public utility buildings, agricultural or industrial facilities, commercial outlets and even monuments. We don't have many restrictions. If there is an object that needs a roof truss, we will certainly be able to take on the task.

What materials do we use to create wooden roof trusses?

The production of roof trusses requires the use of good quality products. These include, above all, spiked plate and structural timber. The connectors in question are used for prefabrication of wooden roof trusses. They are 1-2 mm thick and have embossed spikes (with a maximum height of up to 20 mm). The spike plates are subjected to a press with a pressure force of 30 tons, which gives a very durable, reliable connection. Wooden truss trusses created in this way do not need additional fastenings in the form of glue, screws or nails. In this way, another risk factor that could affect the quality and strength of the truss is eliminated. We use a very effective solution, which are templates for the manufacturing process. They guarantee the repeatability of dimensions.

Wood for production comes from reputable suppliers. We use it not only for the roof trusses themselves, but also for other structures from our offer (such as houses in the RK Haus System). The most important advantage of the wood used is, of course, durability and long life.

How does the production of prefabricated trusses look like?

We do not create trusses on site. Therefore, we do not need to take up space on the customer's property. Everything is done in the prefabrication plant. Prefabricated wooden structures are delivered to the site only after they have been produced. At the construction site, the only assembly of the roof trusses remains to be performed. For the production of trusses, we use numerically controlled saws, hydraulic presses or special assembly tables and nailing stations. It is a complicated job, but it gives measurable benefits. Created in accordance with the rules of art, wooden roof structures are distinguished not only by their extremely important durability, but also by their aesthetics.

Transport and assembly of prefabricated roof structures

We offer our roof trusses for the investor as a comprehensive service. We design, manufacture and then assemble roof trusses on construction sites. We have our own fleet for the transport of trusses, but we also cooperate with forwarding companies that can transport roof trusses straight to the address indicated. We are also prepared for the need to deliver oversized elements. Our prefabrication system provides for the division of trusses for transport and joining them together using mobile presses already at the construction site. The prefabricated truss can then be installed manually or by crane. The selection of the method depends only on the size of the structure and the situation at the construction site. It should be remembered that the roof trusses we install are large and often oversized elements. Therefore, for the assembly to take place efficiently, we need reliable information prevailing on the construction site, which should be confirmed before the delivery of the roof trusses. We are talking here about the exact address of the construction site, information about the entrance to the construction site, place for storing the structure.

Our fitters are trained assembly teams. We have already had the opportunity to cooperate on many complex projects. Thanks to this, we can ensure efficient installation of roof trusses, we also provide support in the selection of optimal solutions. In the case of a typical single-family house, assembly should not take more than two or three days.

Roof trusses – manufacturer

We have been specializing in the production, transport and assembly of trusses for many years. During this time, we have gained and continue to gain extremely valuable experience, thus improving our qualifications. Our prefabricated roof structures are characterized by high quality that meets European standards. We achieved success thanks to the use of a license from Mitek Industries, a supplier of software and spike plates for connecting roof trusses.

We have our own design offices and extensive machine parks. With the help of specialized software, we are able to design, effectively optimize and make wooden roof trusses. In addition, our staff are people with construction education, who value good cooperation with customers. We try to ensure that each order, from the design phase to the moment of implementation at the construction site, is agreed with the investor. Therefore, there are no situations in which the customer would receive a product that does not meet his expectations.

Prefabricated roofs – pricing

Each design of the roof truss structure is unique in its own way, therefore we try to make prefabricated roof trusses tailored to the specific situation. That is why we focus on individual pricing of orders. The customer pays only for the services he needs and the materials that will be used for the specific implementation of the project. When evaluating, we take into account, among others: cost of materials for the construction of roof trusses, transport and assembly.

We use only the latest technologies and specialized software. This translates directly into cost reduction compared to structures made in other technologies. This example shows how beneficial wooden roof trusses are for customers.

The final price for the roof trusses is always known before the first works are started. We consult with the investor every element of the execution of roof trusses. Close cooperation guarantees receiving the product within the specified budget and meeting the customer's expectations.

In a matter such as a prefabricated truss, the manufacturer Wiązar System will certainly meet all expectations. Feel free to contact us by phone or e-mail. We provide professional advice in the field of prefabricated roof structures. We help choose solutions that will work best in our investors' projects. It is also worth asking us other questions about prefabricated roof trusses. We will be happy to answer them.